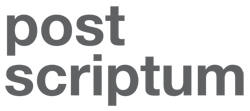 Welcome to PostScriptum
PostScriptum are GLAM sector consultants based in Athens, Greece. PostScriptum specialise in the delivery digital environments to cultural heritage organisations in Greece and the wider Balkans. Their extensive experience in digital project delivery makes them a valuable resource supporting the museum, cultural and heritage community.
A multidisciplinary team of consultants, digital specialists, museologists, art historians, research experts and creative minds, PostScriptum is a dedicated digital consultancy serving the GLAM sector with a strong track record of delivered projects.
PostScriptum specialise  in administering and safeguarding collections, digital exhibition design and breakthrough ideas for audience engagement in museums.
The sector expertise that PostScriptum brings to the partnership will only serve to improve the breadth and quality of digital projects that we can offer our customers. Conversely, the addition of Ortelia products such as Ortelia Curator and our extensive experience in 3D interactive applications means PostSciptum can offer their clients world-class 3D digital applications tailored to their needs.
This partnership represents a gathering of GLAM sector experts and talent. Together we aim to open new digital horizons for cultural organisations and deliver best-in-class digital heritage projects. Our extensive combined project experience and industry knowledge is a perfect recipe for the successful delivery of client-focused projects.
We look forward to a long and rewarding partnership together.