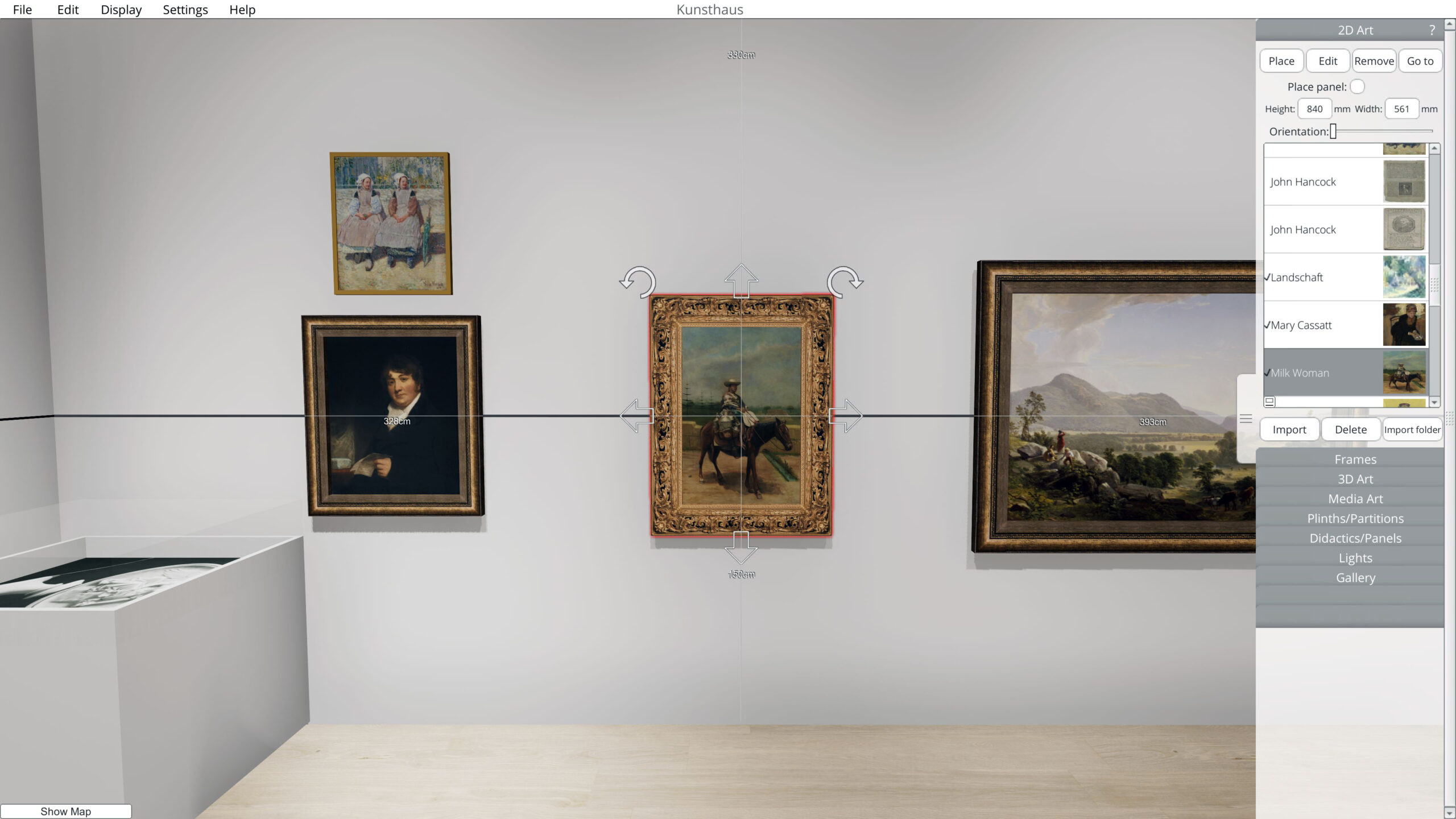 Our Pricing is Changing
Since the launch of Ortelia, much has changed with Ortelia Curator and indeed, the world. Over the years, we've continued to innovate and expand capabilities, including tools to allow collaboration in more ways, improved workflows and much more. What was once thought of as 'an interesting tool that would be nice to have' has now become the indispensable exhibition design tool for hundreds of galleries and museums worldwide.
To reflect all of that added value and ensure that we can keep investing in innovation in an ever changing world, we are announcing our first price increase since the release of Ortelia Curator.
Monthly Subscriptions
On January 1st 2023, monthly Curator subscriptions will cease to be available for new users. For existing monthly users, there will be a price increase.  Please click here to see the pricing for your region.
Customers currently on a monthly subscription can also lock in the existing annual rate for one year by switching to an annual Pro subscription before the 1st of January 2023.  Please get in touch if you would like to take up this offer.
Annual Subscriptions
On January 1st 2023, annual Curator subscriptions will increase in price, please click here to see the pricing for your region.
The Future of Ortelia Curator
We continue to innovate and expand the capabilities of Ortelia Curator, empowering designers and curators to meet their creative needs both now and in the future. From rapid testing of multiple exhibition layout ideas to outputting of detailed hanging plans our users make design decisions using Ortelia Curator.
We have some seriously exciting developments planned for the near future so stay tuned for more blog posts!  In the meantime, here's an overview of some key features that we've co-created with our users over the years that continue transforming the way they work:
Media Import: In a real-world exhibition, a designer or curator work with multiple artwork types ranging from 2D and 3D artwork to video and audio. Since the first release of Ortelia curator we have worked closely with our customers to develop a robust artwork import that reflects real-world needs. A wide variety of video, audio, image, and 3D formats are catered for, and the list continues to grow.
Elevations Export: A primary requirement of any exhibition design is the ability to generate plans and elevations of the final exhibition for the installation crew. These plans need to be clear and contain all the information required for a seamless hang. In 2021 as a direct result of customer collaboration we introduced an all-new elevation export system which provides both plan and elevations views. These can be exported to a pdf file for distribution. Information such as artwork placement, measurements, wall colours, artwork lists and any notes are included in the exported document.
CMS Connection: Every museum and gallery will have some form of Collections Management System (CMS). These are an essential cataloging and archiving tool. Early in the release of Ortelia Curator our customers requested the ability to connect to their collections management system to import artworks directly into Curator. This has led to the development of a robust generic interface tool for CMS connection and the continued development of interfaces for a growing number of Collections Management Systems.
Framing: Framing is a fact of life when it comes to artwork display. Often a designer or curator will be tasked with deciding on a framing option. This process is not only about the framing material but also decisions regarding the mount colour and sizing. Working with our customers has enabled us to develop an advance framing system that can incorporate custom frame types. This has enabled our users to make informed framing decisions.
Web Exhibtions: During the COVID pandemic we developed a service that allows us to convert client Ortelia Curator files to online interactive 3D exhibtions. This service allowed our clients to stay 'open' during the pandemic and continues to be a powerful way to engage audiences outside of the physical space. These online exhibtions have asist organisations to continue to meet their public facing obligations by bringing back-of-house collections to life.
Our mission has always been to foster the creative aspect of the exhibition design process by providing the tools to rapidly test ideas without breaking creative stride. We firmly believe that this makes working life simpler, more pleasant and more productive. As Ortelia Curator continues to evolve, we'll keep innovating to ensure that we're staying ahead of the needs of our customers. Our subscription updates will ensure we can continue to do this now and into the future.
For more information on each of our subscriptions, please visit our Ortelia Curator page and our customer FAQs.