In this update we take a look at two up-coming exhibitions by users of Ortelia Curator and detail recent software updates to Ortelia Curator.
East Coast Encounter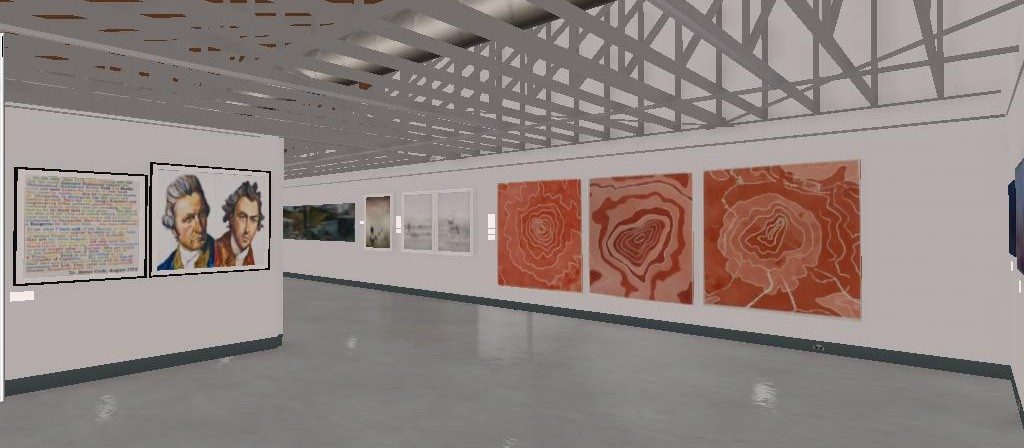 East Coast Encounter is a multi-arts initiative involving Australian Indigenous and non-Indigenous artists, writers and songwriters to re-imagine the encounter by Lt James Cook and his crew with Aboriginal people in 1770.
Cook's voyage along the Australian east coast has become central to national historical narratives. The exhibition re-envisages this seminal journey by imaginatively exploring moments of contact between two world views during these encounters. It also brings these events into the present by incorporating artists' reflections on their relevance today, and their responses to visits to significant contact locations.
Topics such as encounter, impact, differing perspectives, nature and culture, and views of country are investigated.  Artists include Bianca Beetson, Michael Cook, Neil Healey, Peter Hudson, Adam Hill, Garth Lena, Gail Mabo, Euan Macleod, Arone Meeks, Reg Mombassa, Gordon Syron, Ann Thomson, Judy Watson and performer/writers Gemma Cronin, Shane Howard and Neil Murray. The curators are Dr Lisa Chandler from the University of the Sunshine Coast and John Waldron from Blue Sky View exhibition services.
Paintings, photographs, videos and three dimensional works are included alongside a small selection of historic artefacts. The exhibition features a documentary DVD by Jeff McMullen which gives further voice to the artists and records their encounters with significant sites and traditional owners.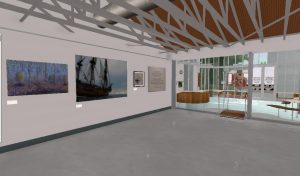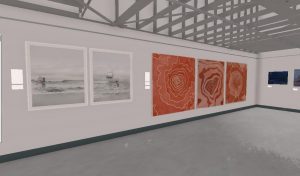 Images courtesy of BlueSkyView
The exhibition tours to a range of 12 national and regional venues to 2017.
For more information go to: www.eastcoastencounter.com.au or contact John Waldron, Blue Sky View.
Cross Pose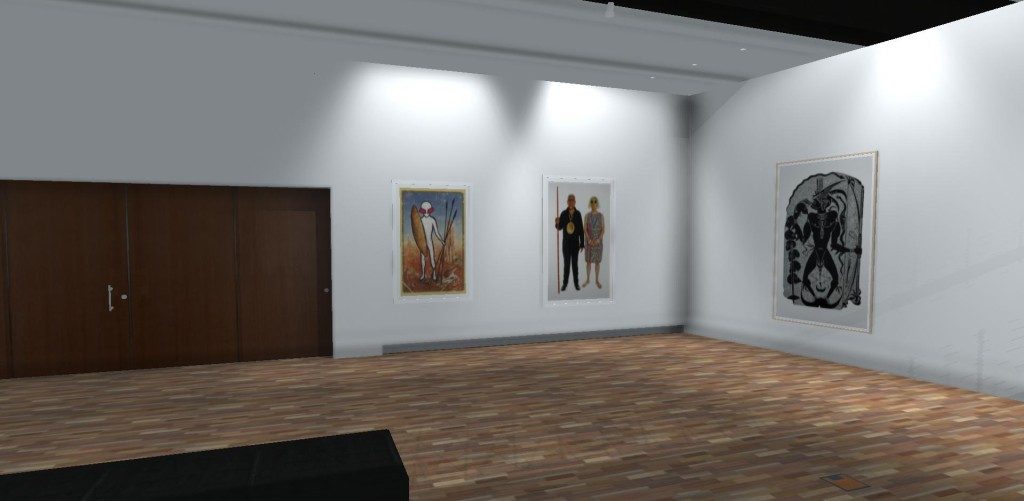 Cross Pose – Body language against the grain
brings together Australian artworks from The University of Queensland Art Museum Collection that draw on the human body as expressions of cross-cultural subjectivities and visual politics. The visual language of the body in these artworks poses questions, challenges, and interventions into normative thinking. We confront bodies generating ideas and emotions that are beyond the scope of words, and respond to sensory triggers aimed at realigning social attitudes and political thinking.
The exhibition's selection of artworks are predominantly by Indigenous Australians who draw on a life-long expertise in negotiating different cultures and languages to both declare and contest the status of subjectivity and identity. Cross Pose thus presents a rare occasion where non-Indigenous perspectives provide the counterpoints in narratives about Australian cultures. Artists include Darren Siwes, Sam Watson, Gordon Bennett, Robert Dowling, Michael Cook, Debbie Coombes, Ray Crooke, Christopher Pease, Mabel Edmunds, Samantha Hobson and Luke Roberts.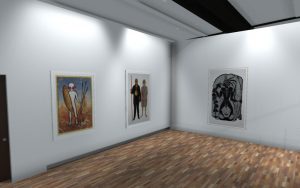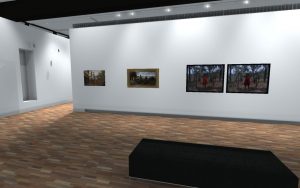 "Curator was particularly useful in organizing educational programs for this show, in addition to its application for sizing up the installation of artworks. The virtual model of the show helped organisers and participants in seminars and master classes to prefigure the relationship of artworks in the exhibition spaces and what kind of visual narratives emerge from various juxtapositions. This is normally impossible to achieve until after the exhibition is fully installed. It was considerably easier to generate interest and understanding through simply emailing the screen-shots of the show to colleagues." Dr Sally Butler, Senior Lecturer in Art History at The University of Queensland and curator of Cross Pose – Body language against the grain
Ortelia Curator Developments
Version 1.2.1 has recently been released. This version of Ortelia Curator addresses issues with certain ATI video cards. In addition, v1.2.1 represents a significant performance improvement over previous versions and includes many other minor improvements. The list is currently growing for enhancements and improvements for version 2 (
release date coming soon
). If you are an existing user you can download the update from your account. New to curator? Check out our
website
or sign up for a trial version
here
.